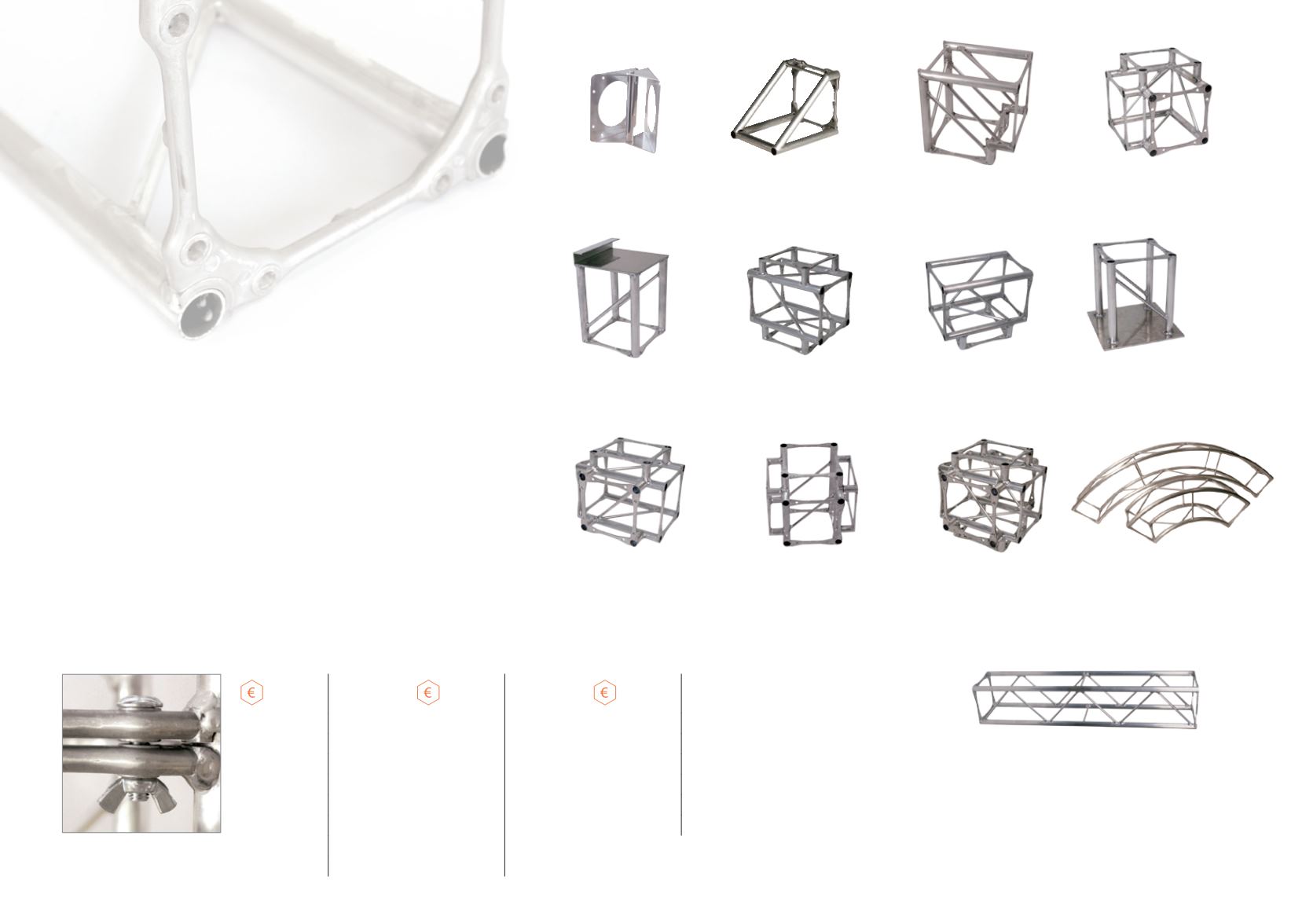 42 | STANDS
Arena
Arena is an attractive aluminium tube structure
It will bear up to 100 kg over a length of 2 m.
Can be used with banners or textile graphics fitted using elastic bungees.
10 year guarantee.
Why not add literature holders, screen monitors or more tabletops
(see pages 44-45). Do you want a personalised modular stand?
Check out our custom range (page 19).
Montage sans outils
Code
RRP
UT-S2000
200 €
UT-C500
120 €
UT-C1000
160 €
UT-AF250
80 €
UT-HP250
70 €
UT-SP01
100 €
UT-C40
100 €
UT-C35
80 €
Code
RRP
UT-C21
80 €
UT-C30
90 €
UT-C41
100 €
UT-C55
120 €
UT-C65
140 €
UT-BS250
70 €
Code
RRP
UT-S250
60 €
UT-S300
70 €
UT-S500
80 €
UT-S750
100 €
UT-S1000
120 €
UT-S1250
140 €
UT-S1500
160 €
UT-S1750
180 €
Angle Plate
UT-SP01
Two-way 90° Corner
UT-C21
Angled Foot
UT-AF250
3-way Corner Junction
UT-C30
250mm Hook Plate
UT-HP250
250mm Base Section
UT-BS250
4-way T-Junction
UT-C40
3-way T-Junction
UT-C35
5-way Corner Junction
UT-C55
4-way Corner Junction
UT-C41
6-way Corner Junction
UT-C65
Straight lengths
Section 250 mm: UT-S250
Section 300 mm: UT-S300
Section 500 mm: UT-S500
Section 750 mm: UT-S750
Section 1000 mm: UT-S1000
Section 1250 mm: UT-S1250
Section 1500 mm: UT-S1500
Section 1750 mm: UT-S1750
Section 2000 mm: UT-S2000
Curved Lengths
1000 mm length: UT-C1000
500 mm length: UT-C500