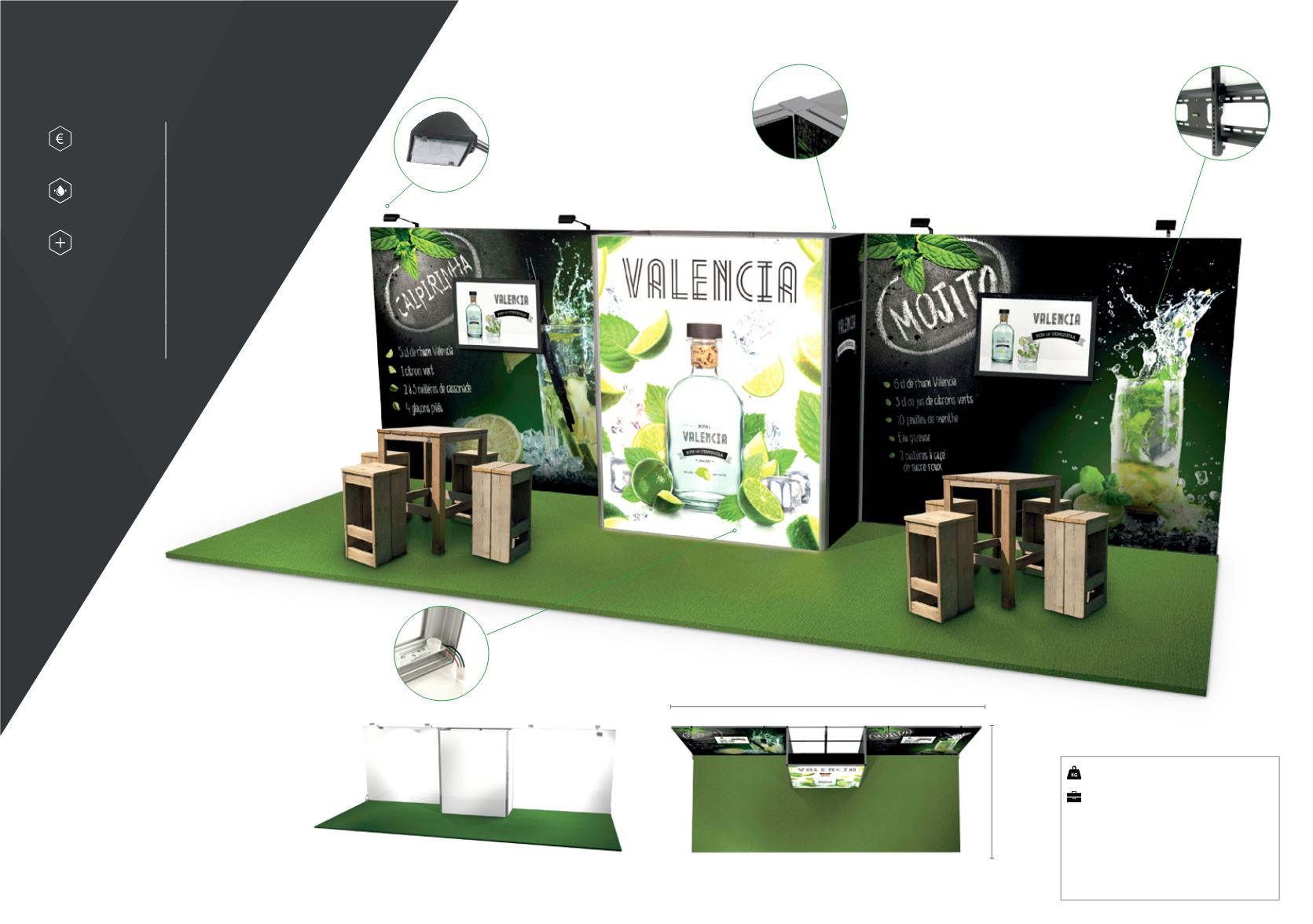 12 | STANDS
STAND
VECTOR 24 m²
3 m
8 m
height 2,5 m
Modules :
A
A
C
V
B
F
Add 4x square post E to create angles
+4 Vierkantpfosten (Modul E) für Eckverbindung
RRP
With storage area
3490 €
Textile graphics
1490 €
Optional
120 watt spot
45 €
Pair of Quarter Side Feet
90 €
Monitor support
75 €
LED wall with graphic
2690 €
95 kg
Cases and bags:
2x 2580 mm wooden crates on
wheels (see page 47)
Transportsystem:
2 Holzkisten (2580 mm) mit Rollen
(siehe Seite 47)
Powerspot 1000
120 watt halogen spot.
360° adjustable head
(see page 42).
Powerspot 1000
120 Watt Halogenstrahler.
360° drehbarer Kopf
(siehe Seite 42).
Assembly tip!
Use a square post E
to connect two frames at
a right-angle to create a
central storage area.
Montagetipp!
Mit einem Vierkantpfosten
(Modul E) können Sie zwei
Rahmen im rechten Winkel
verbinden, um einen zentra-
len Lagerraum zu schaffen.
Layout ideas!
Show videos to make your
stand more dynamic. Several
screen brackets are available
(see page 44).
Layout-Idee!
Mit Videos können Sie Ihrem
Stand zusätzliche Dynamik
verleihen. Verschiedene
Bildschirmhalterungen ver-
fügbar (siehe Seite 44).
LED wall
You can now create a backlit
graphic wall, thanks to LED
lights fitted to the side of
the frame. A real attention
grabber!
On request.
LED-Wand
Das am Rand eingebaute
LED-System erzeugt
hinterleuchtete Grafikwände.
Ein echter Hingucker!
Auf Anfrage.