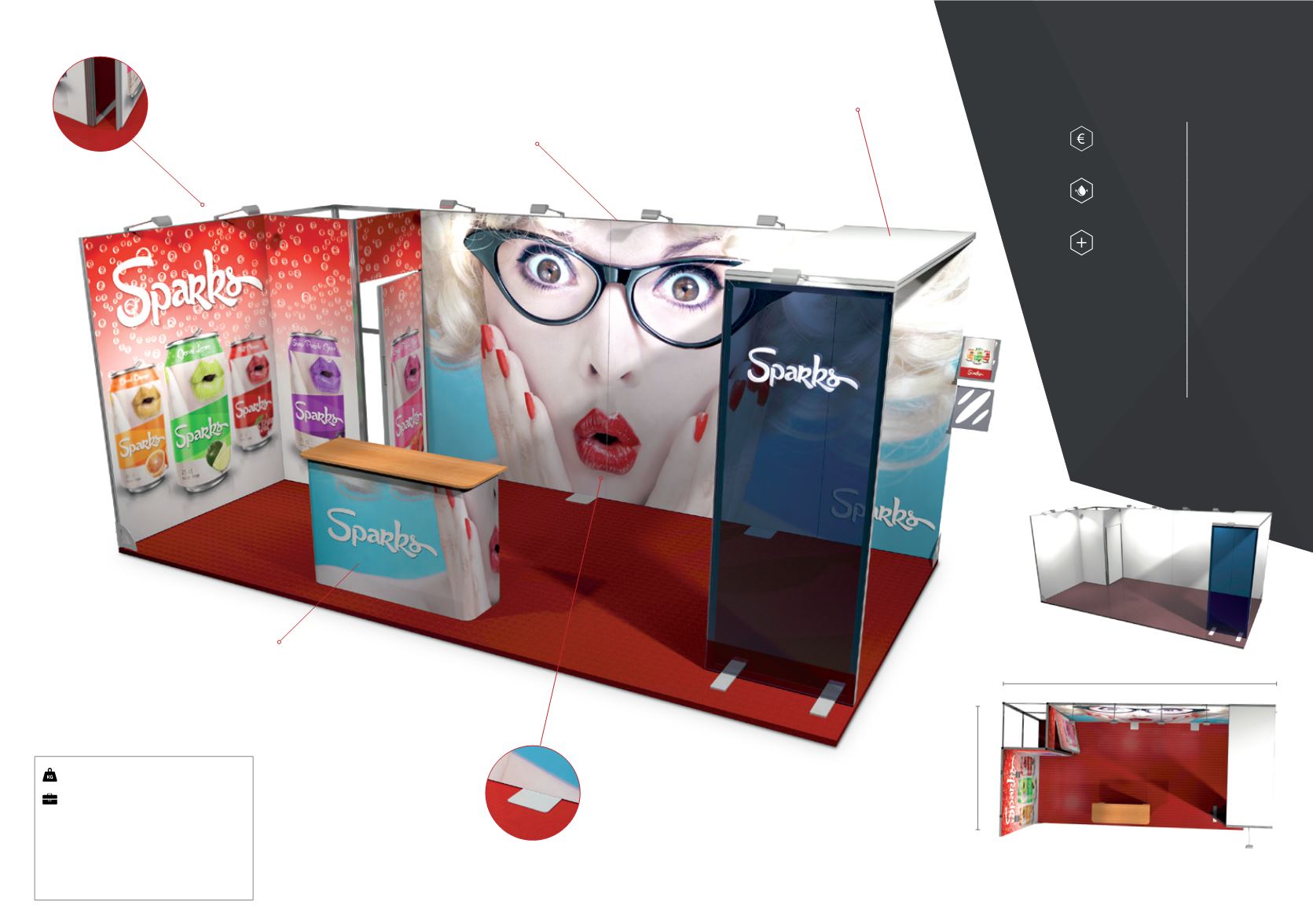 STANDS | 11
VECTOR
STAND
18 m²
Create larger graphic areas by adding
on different modules
Fügen Sie mehrere Module zusammen,
UM XXL-GRAFIKEN zu schaffen
Arch Module
Ideal for adding dimension and a
touch of originality to your stand.
The use of panels in plexiglass is
possible on request.
Modules :
6 m
3 m
height 2,5 m
C
D
B
B B
G
Counter with textile graphic
and rounded corners
Aluminium structure. Tabletop available
in 6 finishes (see page 45).
1500 x 1000 x 500 mm
On request.
RRP
With storage area
4790 €
Textile graphics
2290 €
Optional
120 watt spot
45 €
Pair of Quarter Side Feet
90 €
Flat base
35 €
Demi Flat base
70 €
Literature holders
100 €
Counter with graphic
699 €
113 kg
Cases and bags:
3x 1350 mm wooden crates with wheels
or 4x bags with wheels (see page 47)
Transportsystem:
3 Holzkisten (1350 mm) mit Rollen oder
4 Taschen mit Rollen (siehe Seite 47)
Bogen-Modul
Verleiht Ihrem Stand mehr
Dimension und Originalität. Auf
Anfrage auch mit Plexiglasplatten.
Textil-Theke mit abgerundeten
Ecken, Volle-Grafik
Aluminiumstruktur. Tischplatte in 6
Farben verfügbar (siehe Seite 45).
1500 x 1000 x 500 mm
Auf Anfrage.
Threshold bar
Storage areas are supplied
with a threshold at the
bottom of the door for greater
stability.
Schwellenleiste
Zur besseren Stabilität ist die
Tür des Lagerraums mit einer
Schwellenleiste verstehen.
Short flat foot
Add feet at regular intervals
to give your stand optimal
stability (see page 43).
LN155-02
Stabilisierungsfüße
In regelmäßigen Abständen
montierte Standfüße verleihen
Ihrem Stand optimale
Stabilität (siehe Seite 43).
LN155-02