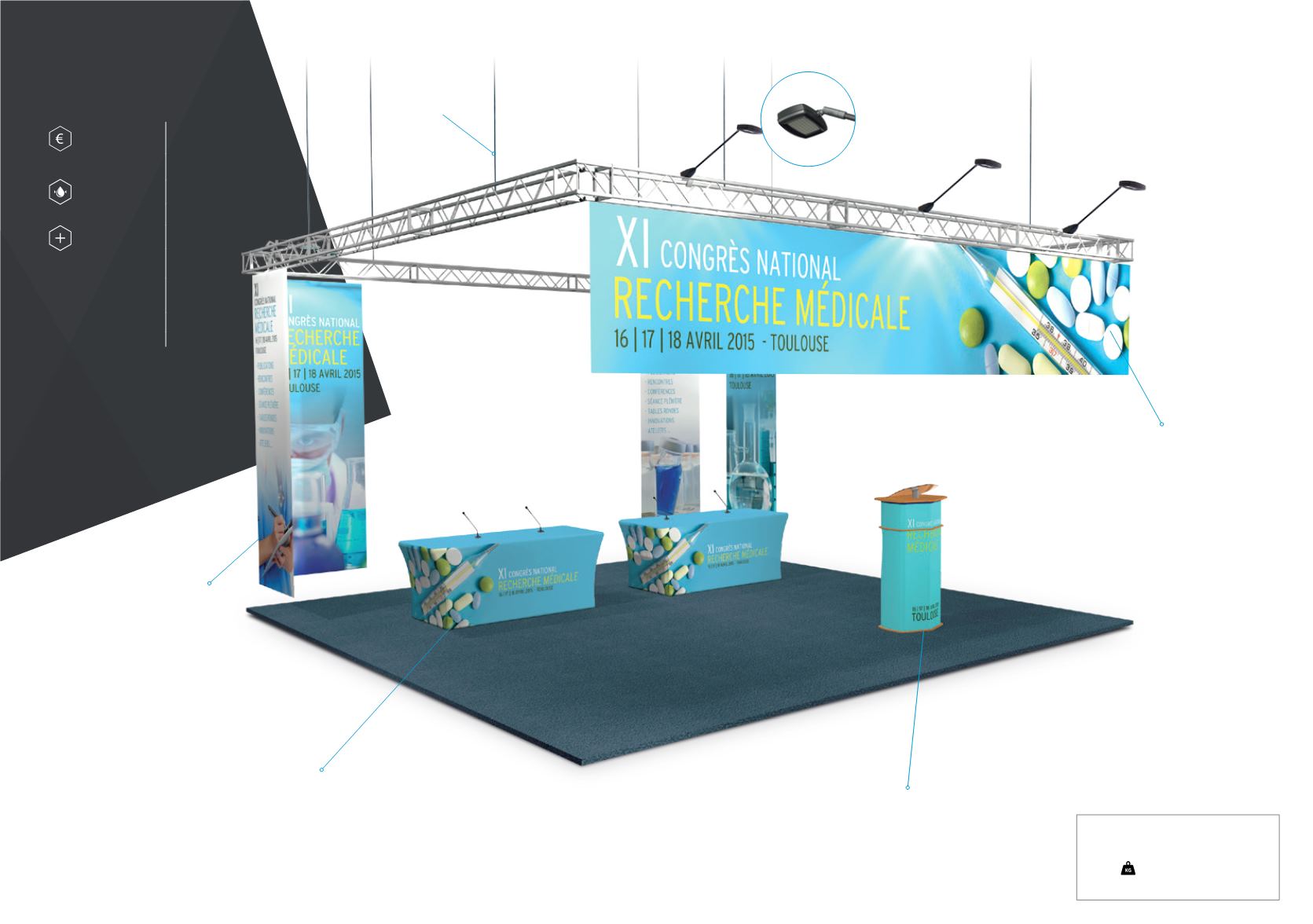 20 | STANDS
ARENA
STAND
36 m²
Counter with top shelf
Counter with internal shelf. Tabletop available
in 6 finishes (see page 45).
Acrylic top shelf PVC graphic.
Transport bag included.
1300mm (h) x 665mm (w) x 480mm (d)
On request.
Table with textile wrap
Folding table can be personalised
with a print wrap or cover (sold
separately). With handle.
1835 mm (w) x 750 mm (d)
On request.
* The slings are not provided
Layout ideas!
Make your stand more visible with
wide format graphics. Configure
your graphics to give maximum
visual impact.
Suitable for use with XL format
graphics
für großformat Grafiken
geeignet
RRP
Hanging structure
2490 €
Textile graphics
825 €
Optional
LED 1200 lumen
85 €
Folding tabletop and
bag
450 €
Counter with graphic
699 €
66,8 kg
ARENA 36 m²
Layout-Idee!
Verkleiden Sie das System mit
großformatigen Grafiken, um
die Sichtbarkeit Ihres Stands zu
optimieren. Experimentieren Sie
mit verschiedenen Formaten und
Größen, um den bestmöglichen
Effekt zu erzielen.
Theke mit Textilgrafik
Der Klapptisch kann mit bedruckter Husse
oder Verkleidung personalisiert werden
(separat verkauft). Mit Transportgriff.
1835 mm (b) x 750 mm (t)
Auf Anfrage.
Theke mit Pult
Theke mit internem Regal. PVC-Grafik und
Acryl-Pult. Tischplatte in 6 Farben verfügbar
(siehe Seite 45).
Inkl. Transporttasche.
1300 mm (h) x 665 mm (b) x 480 mm (t)
Auf Anfrage.
LED Flood Light
Approx. 1200 Lumen at 12W.
(see page 42).
LED Flood Light
Ca. 1200 Lumen bei 12 Watt.
(siehe Seite 42).